BULLDOG CLUB OF GREATER SAN DIEGO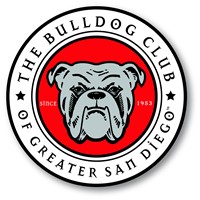 Show Chair:

Amber Vallejo

(858) 361-7218

Show Secretary:

Cindy Liebeck

18891 Via Messina

Irvine, CA 92603

(949) 922-3580

2019 Specialty & All-Breed Shows

February 22-24, 2019

Del Mar Fairgrounds, Del Mar, CA

Guess what? Bulldog Club of Greater San Diego is joining Silver Bay Kennel Club of San Diego to offer 3 Bulldog specialties and 2 All-Breed shows in 3 days!  Bulldogs, the beach and great friends - there's no better setting for a winter getaway! 

On February 22-24, 2019, make your way to the Del Mar Fairgrounds, "Where the Turf Meets the Surf".  FIVE major opportunities in 3 days, as well as Sweepstakes and Junior competition.  Weekend hospitality includes savory breakfast sandwiches on Friday morning followed by a special lunch.  Saturday morning and afternoon hospitality and Sunday morning, too!

Ca$h prizes for winners!

Specialty judges are Kelly Franz, Rick Franz, Van Blevins and Yvonne Miller for sweepstakes.  All-Breed judges are Ray Filburn and Linda Riedel.  It's a great lineup!

ENTRIES CLOSE ON WEDNESDAY, FEBRUARY 6, 2019 AT 10:00 PM!